What is Risk&RACE like?
The Risk&RACE boardgame encourages players to experiment with entrepreneurial decision making, resource efficiency strategies and circular economy business models. The game offers an exciting and hands-on experience and triggers brainstorming and discussion about the opportunities and challenges of circular entrepreneurship.
And of course, it is also fun and challenging, just as a game should be!
Up to 8 players can play simultaneously, in teams of 2, guided by a game facilitator. The game's flexible scenario building options allow a tailor-made game experience for your audience. All materials are in English.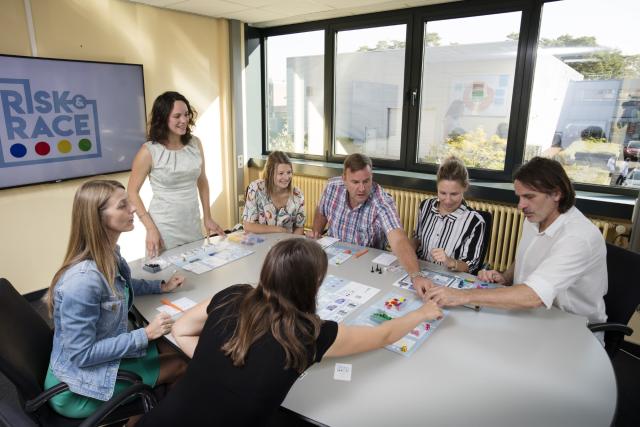 Target audience
The game is for students, entrepreneurs and strategic planning teams. It can be played as individuals or in teams. Its flexible set up allows users to adapt the game to different contexts, learning focus and target audiences.
After playing Risk&RACE, you will have a better understanding of circular economy strategies and business models. The next step is to apply and translate these concepts to your own products, company or context.
How the game works
During the game, you play the role of an entrepreneur. You buy resources, manage your employees and produce and sell products on the market. But unexpected events challenge your plans! Resource prices and availability change, your customers express new needs and legislation forces you to rethink your product design. To stay in business, you must invest in innovation and human resources and you have to rethink your business strategies that strengthen your company and safeguard profitability.
Throughout the game, you gain insights into:
the difference between linear and circular business models
circular economy strategies, such as circular product design, recycling and remanufacturing
circular business models, such as pay-per-use, take-back systems and product lifetime extension
how circular models can improve company resilience against external events
Build a resource-resilient and profitable company and win the game!